We are great believers in quality – quality of life, quality of products, quality of service.
A good team is essential for a business like ours. For Aquapool Spas the staff is like family, and we love the connection with each other and our clients.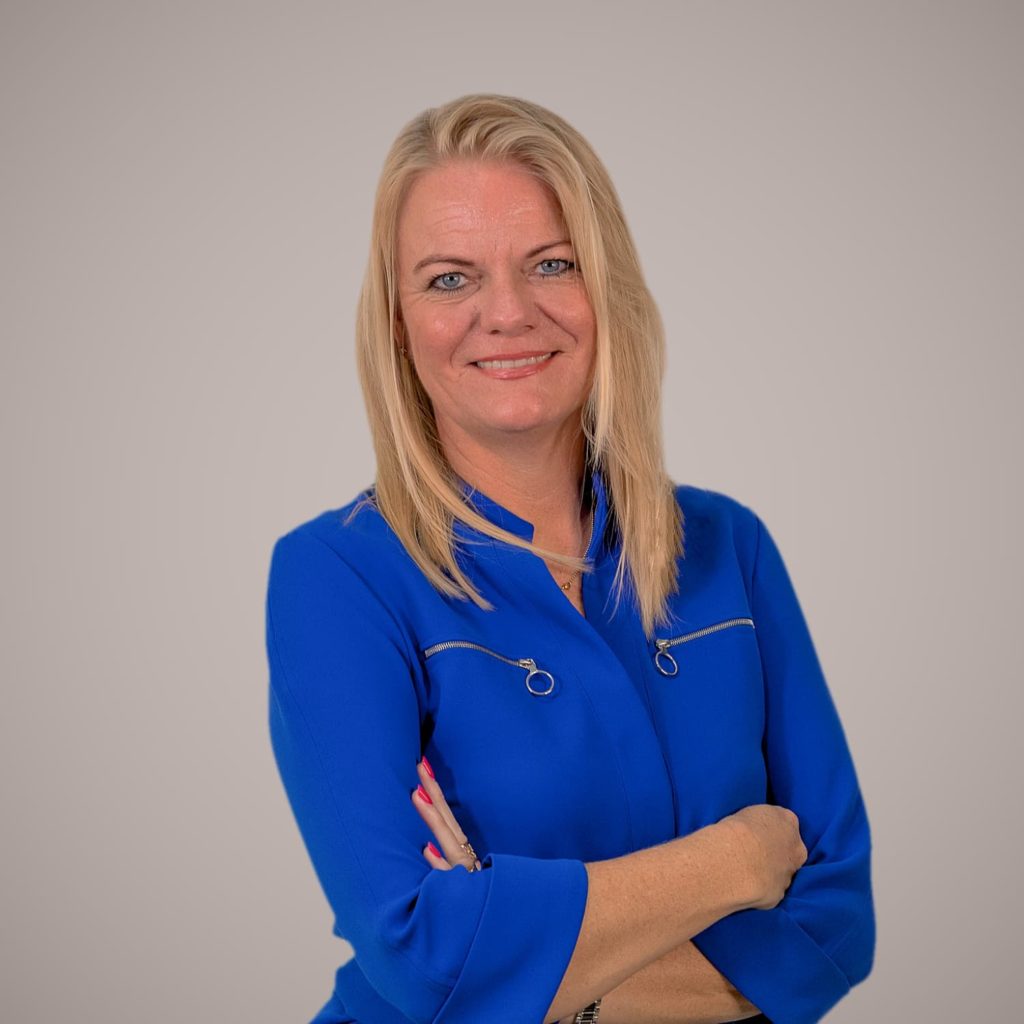 Born and raised in fairy-tale country Denmark. I have lived in Spain since 2003. Active Mum with 2 boys.
Creative and full of good ideas. Love walks in the Spanish nature. My passion is my work and to travel the world.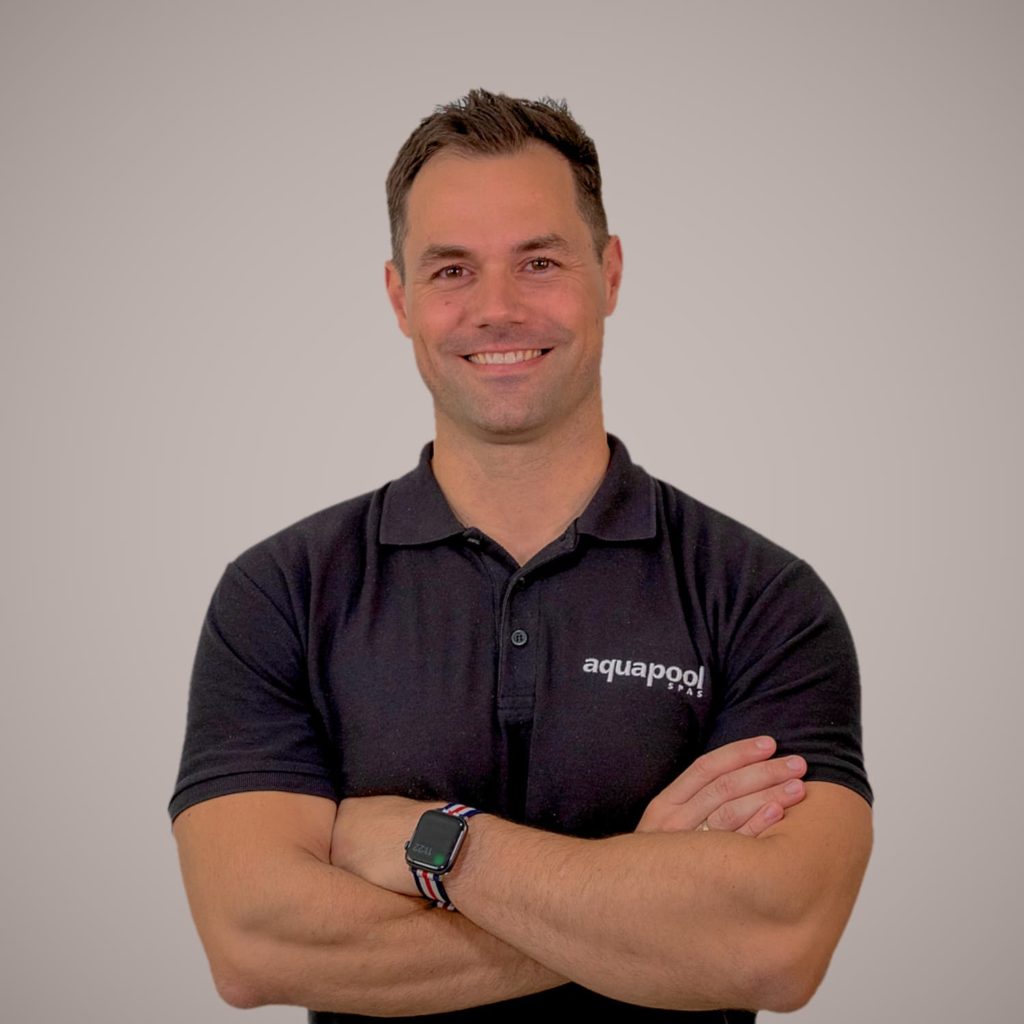 I have lived and travelled many different countries but my heart is Spanish. My big passion is training and I love playing paddle tennis.
I focus on customer service experience, web design and love planning marketing strategies.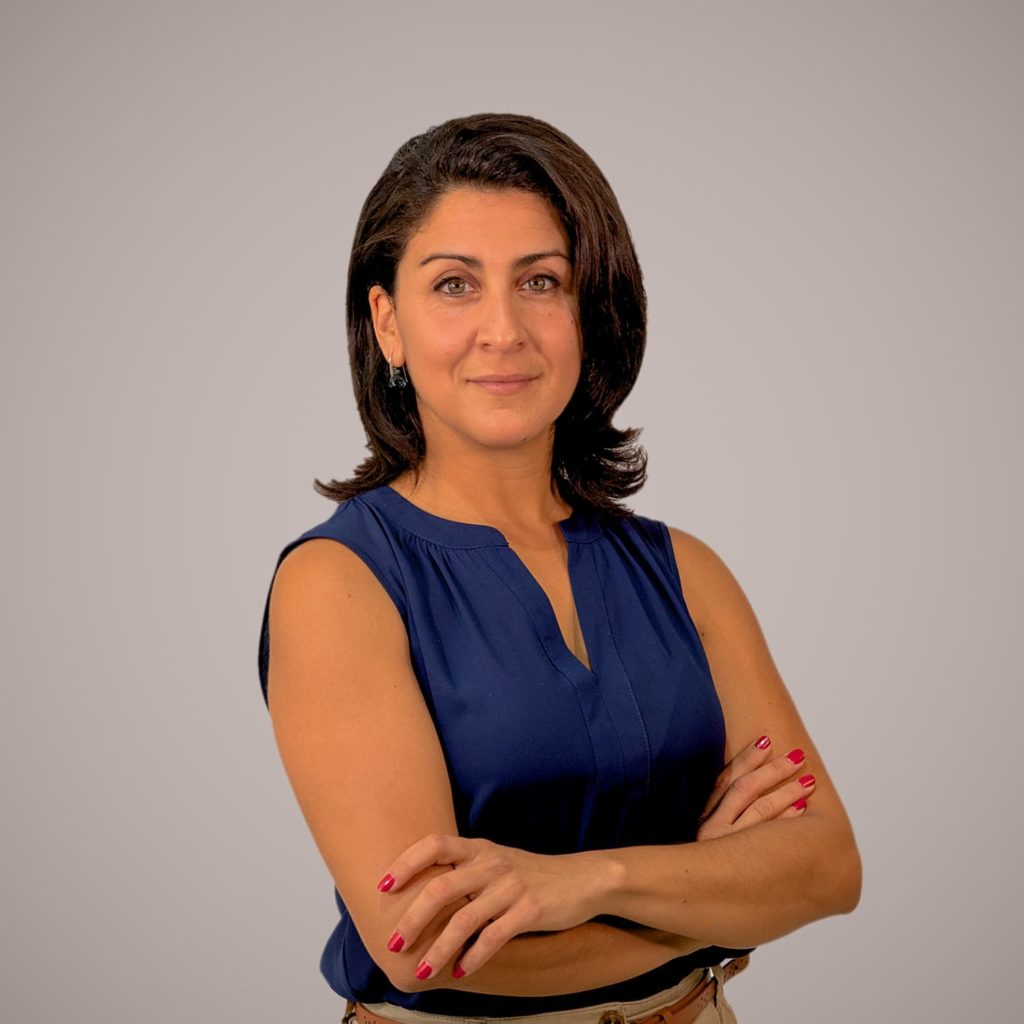 My passion is to help and work with clients, so to be in the Customer Service of Aquapool Spas is just perfect for me! I was raised in an international environment in Morocco, and when I was young I moved to Spain to study.
I speak 5 languages fluently. I love to spend time with my son, family and friends, and I cant wait to meet you!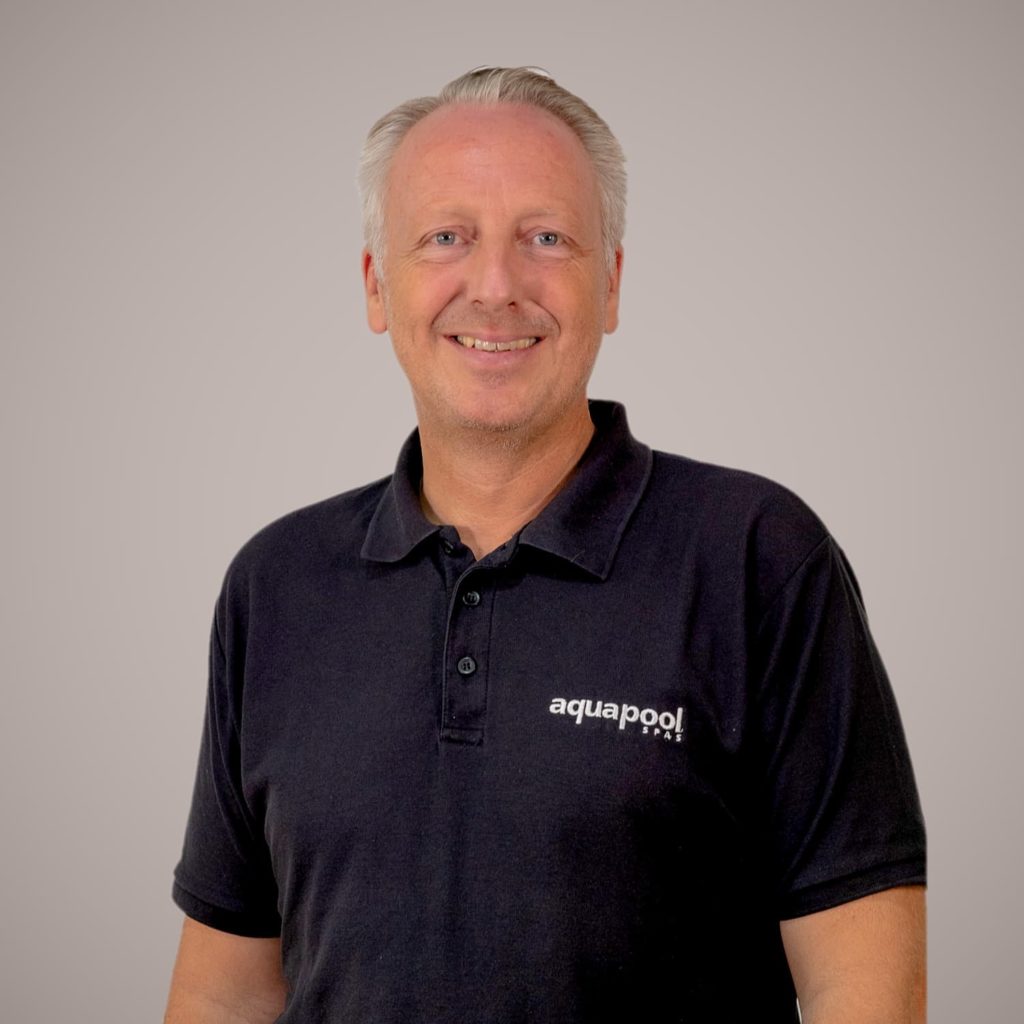 Came to live in Spain in 2003 and never returned to Denmark. I am in love with the outgoing Spanish lifestyle and I have a great interest in wine, specially when I am with friends and enjoying some nice "tapas" in a local bodega.
Football is a big passion of mine – I'm a Barcelona fan and I have a big heart for the local club – Málaga CF. I love my job and our great team.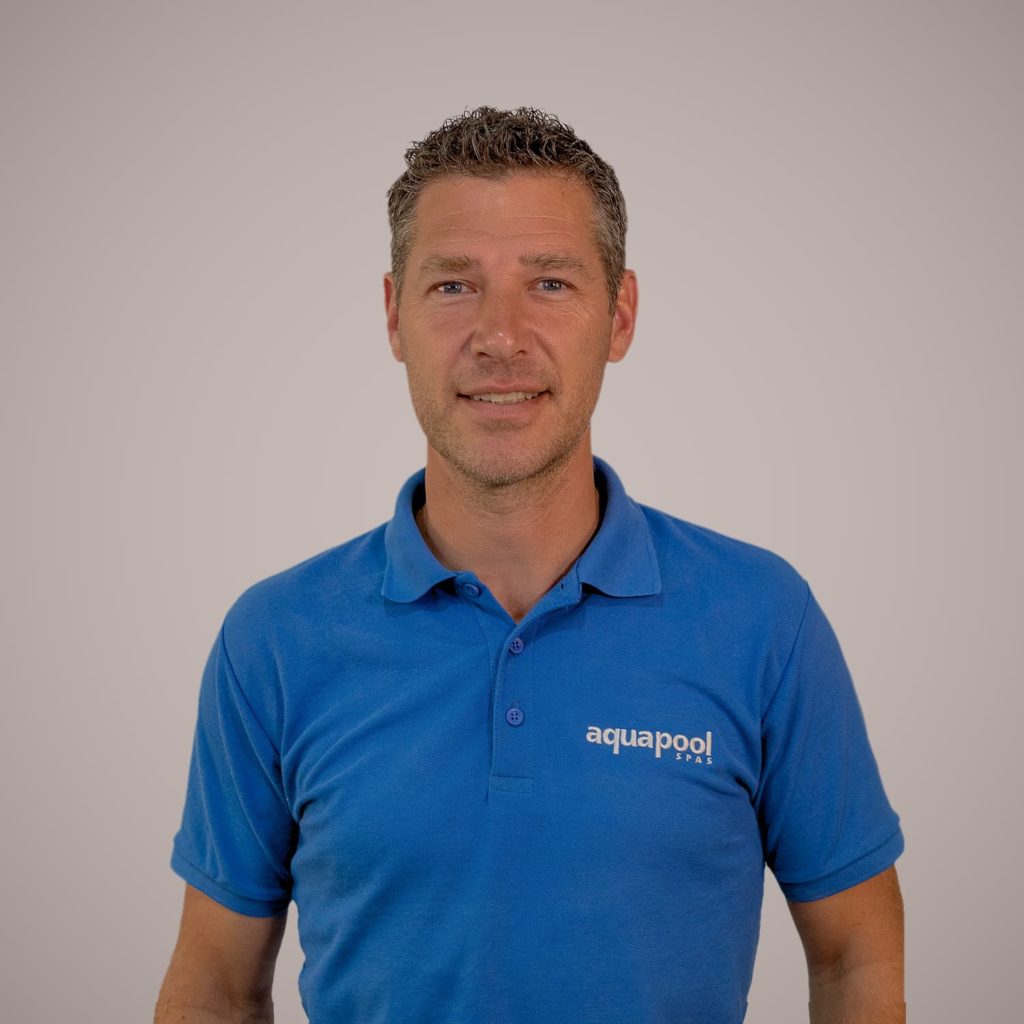 Raised in Belgium and speak 4 languages. I am a father of 3 children. In 1992 I was Champion of motocross in Belgium and now, my youngest son (Pablo), is also competing here in Spain sponsored by Aquapool Spas.
I am a real tech nerd, and I never give up if there is a challenge with a spa.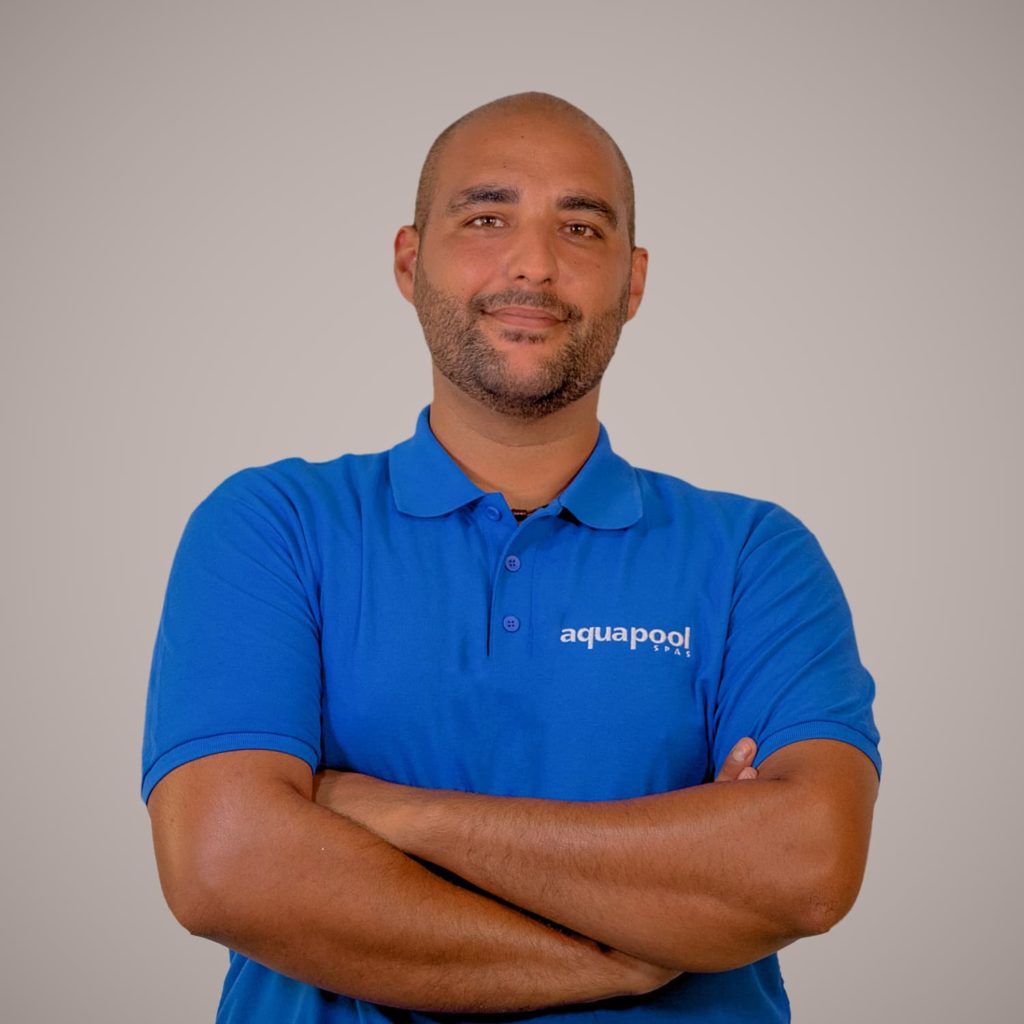 I am the youngest member of our team and I love to learn new things every day. I am from Malaga, born and raised in Cartama. I learned English working one year in Jersey, and now I get to use my languages every day.
I am quite tall – when I was younger I was playing basket ball on a high level. I love the international clients we have in Aquapool Spas.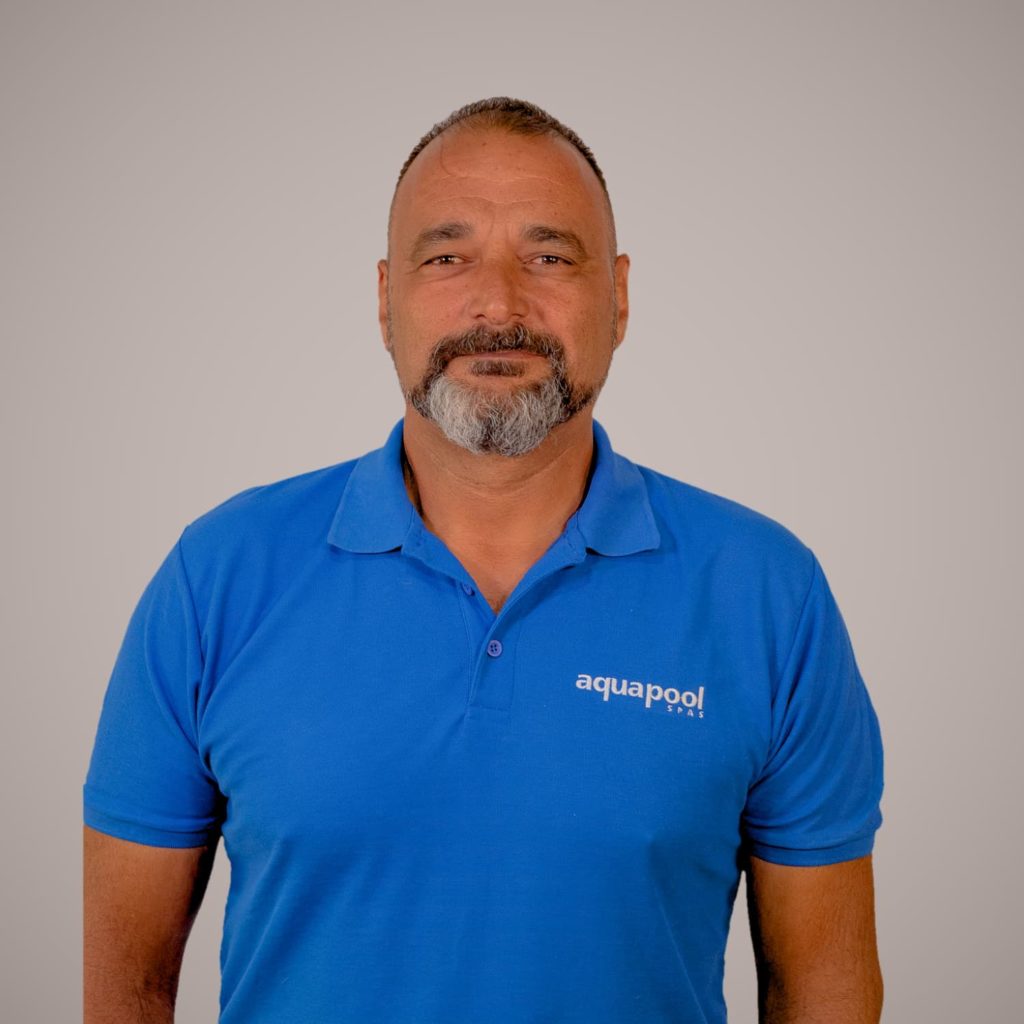 I was born in Argentina, raised in Australia and later in Spain – so apart from speaking Spanish, I speak fluent English with an Australian accent 🙂 I like to take care of our client's hot tubs, so they are nice and ready to use.
I am a big animal lover and I live in the countryside of Malaga.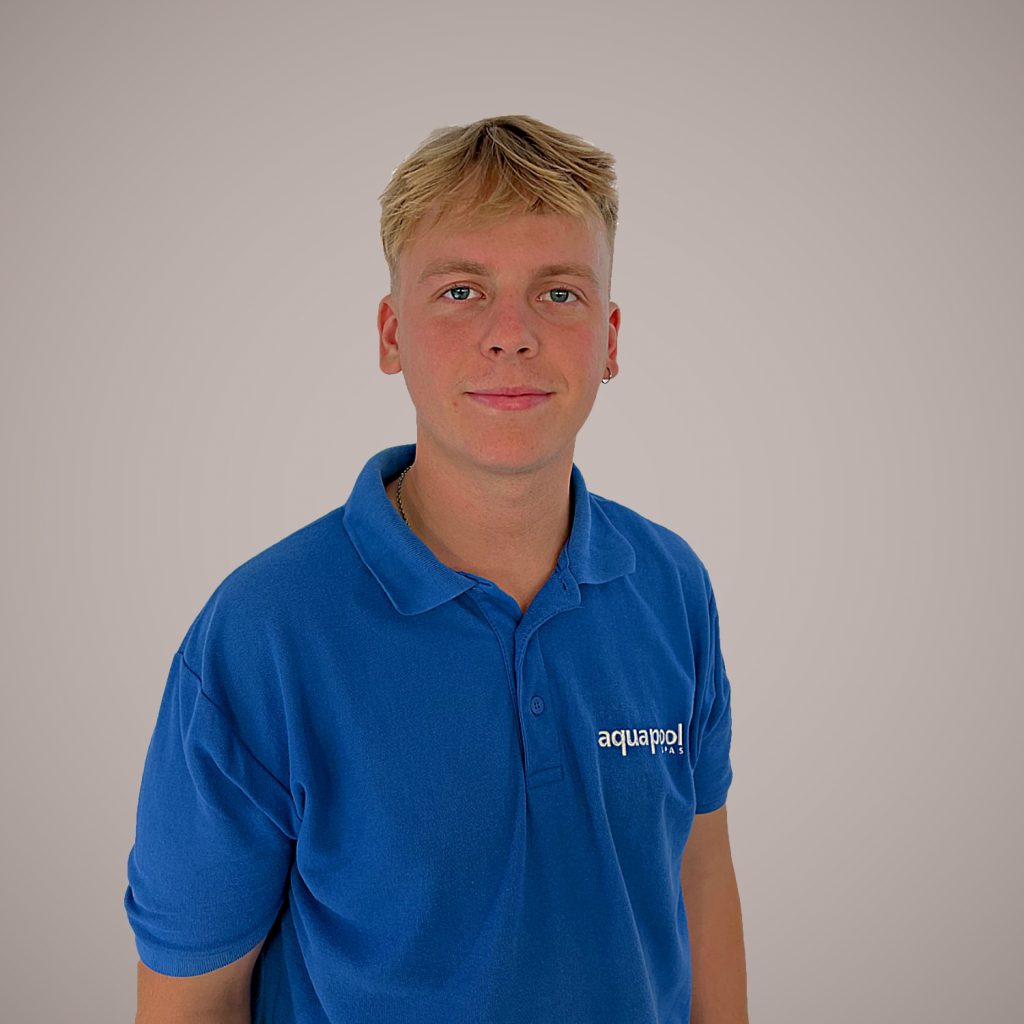 We are proud to have received a number of awards during the years since Aquapool Spas was started in 2004. We work hard to be a pioneer in the market by providing the best hot tubs in Southern Spain.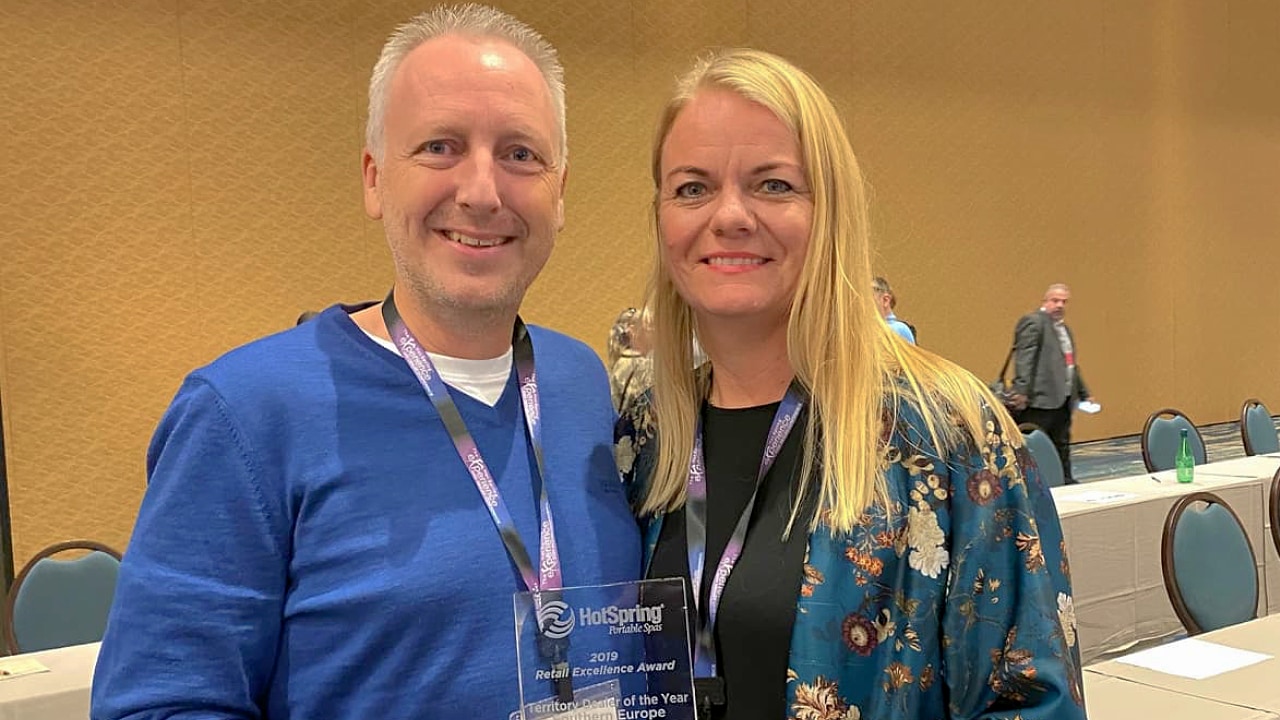 2019 Retail Excellence
TERRITORY DEALER OF THE YEAR
For the fifth year – Aquapool Spas has been elected "Territory Dealer of the Year" for Southern Europe. The territory includes France, Spain, Portugal, Italy and Greece. Aquapool Spas was chosen over a large number of other spa dealers due to great spa sales and high service level. The event took place in Florida in 2020.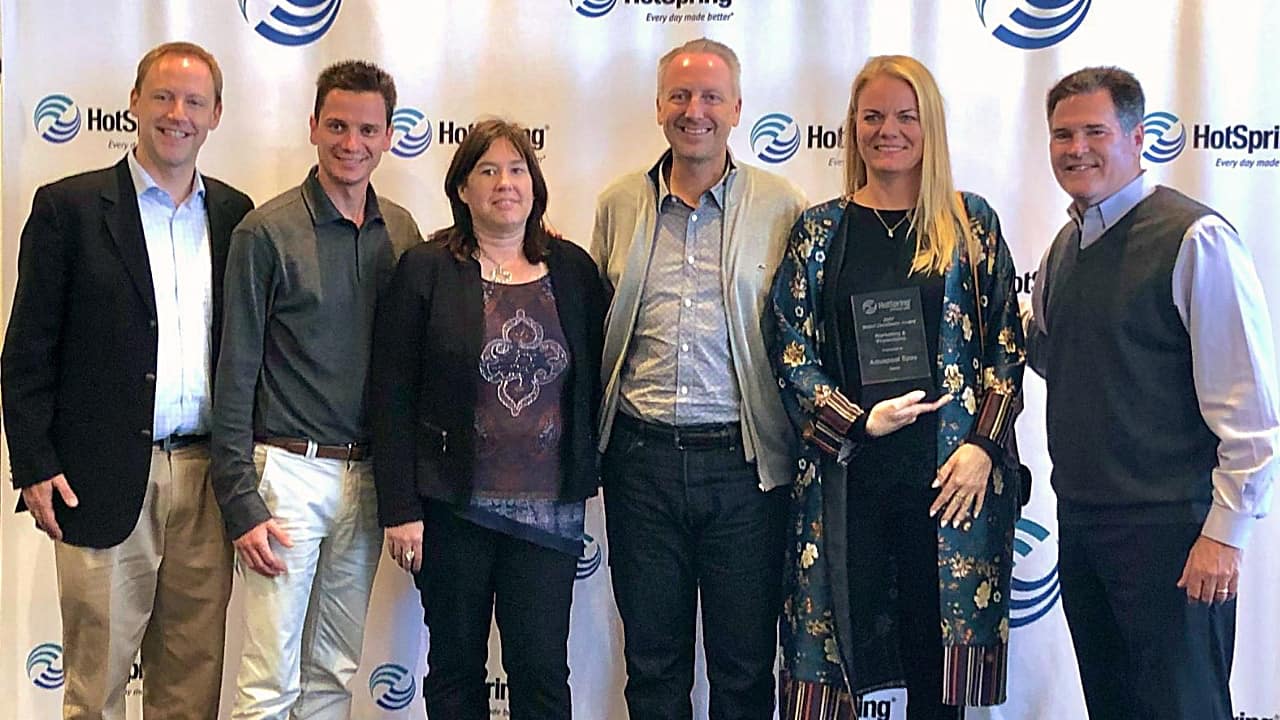 2017 Retail Excellence
MARKETING & PROMOTIONS
In January 2018 Aquapool Spas won the International Marketing & Promotions award which only one spa dealer can win outside of the USA. The event took place in California.
2015 Retail Excellence
TERRITORY DEALER OF THE YEAR
VIDEO: Award ceremony from the HotSpring World Conference in San Diego 2016. Leo Hamacher, Vice President of Intl. Sales & Marketing.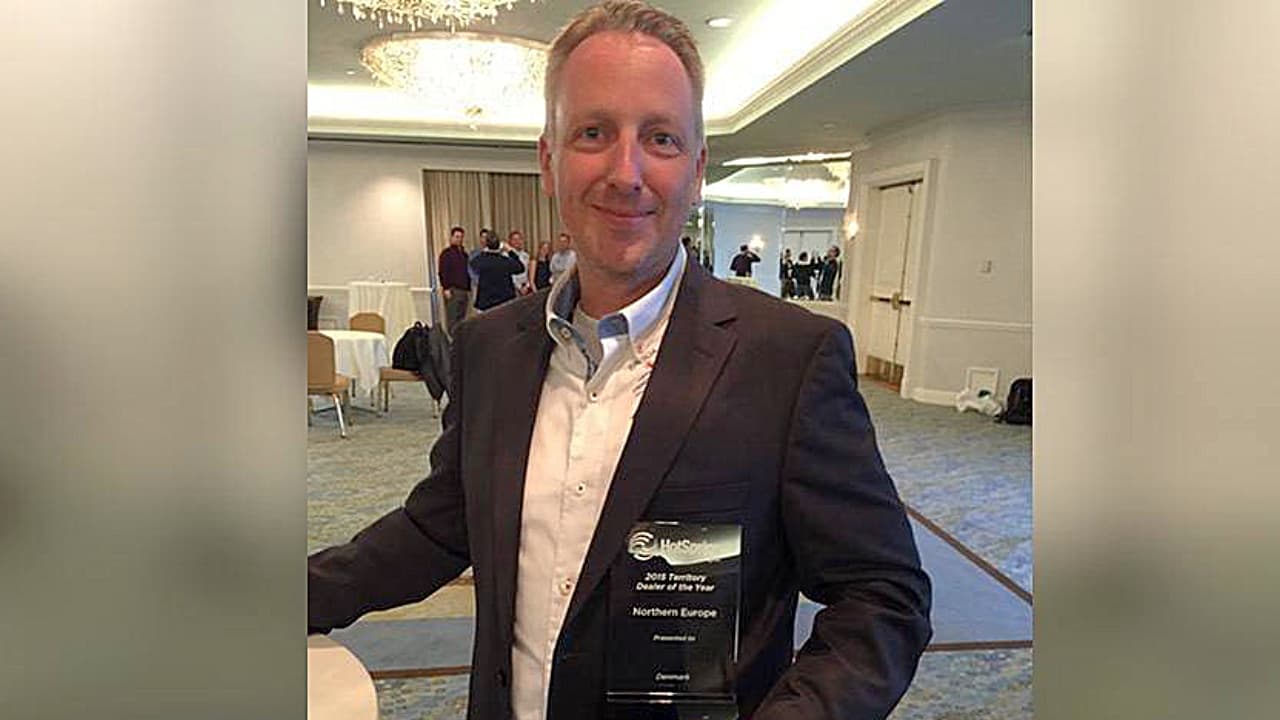 2015 Retail Excellence
OUTSTANDING SERVICE DEPT.
Claus Kielskov received the Retail Excellence Award for Outstanding Service Department in the HotSpring World Conference in San Diego (California) in 2016.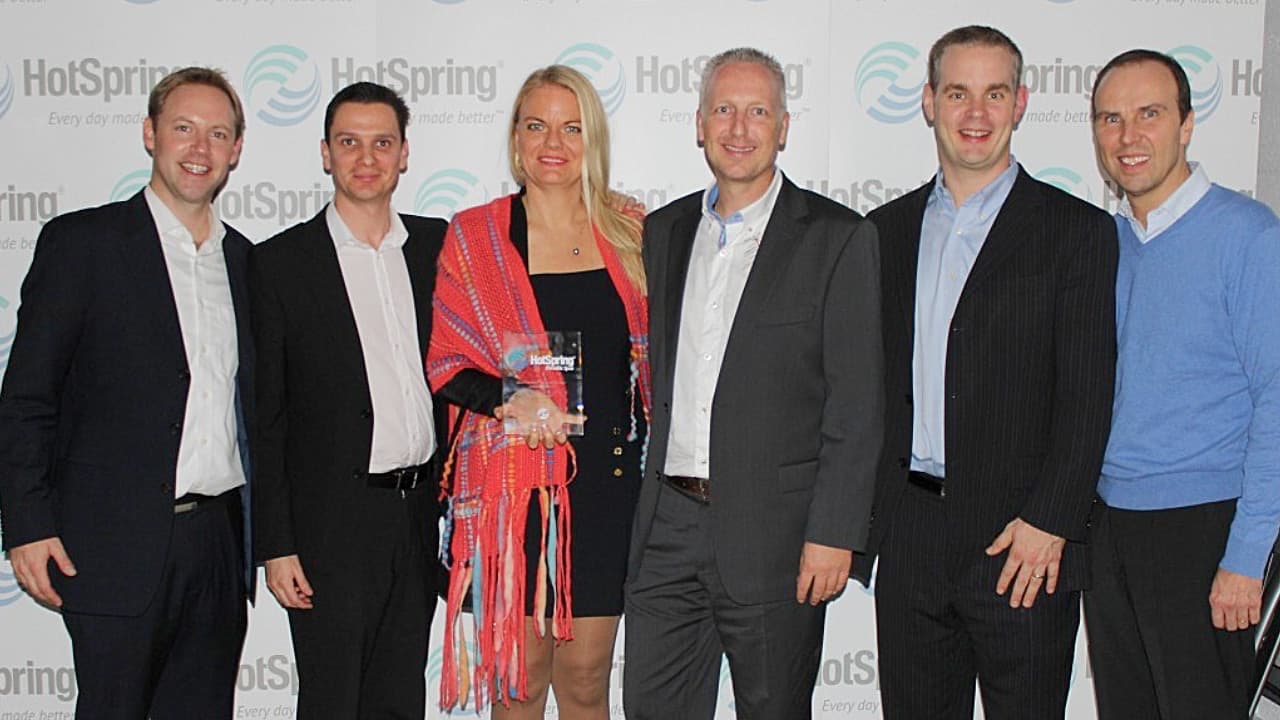 2014 Retail Excellence
TERRITORY DEALER OF THE YEAR
We received the third "Territory Dealer of the Year" award in 2015. The Dealer ceremony took place in the Aquapool Spas showroom with over 150 attendees.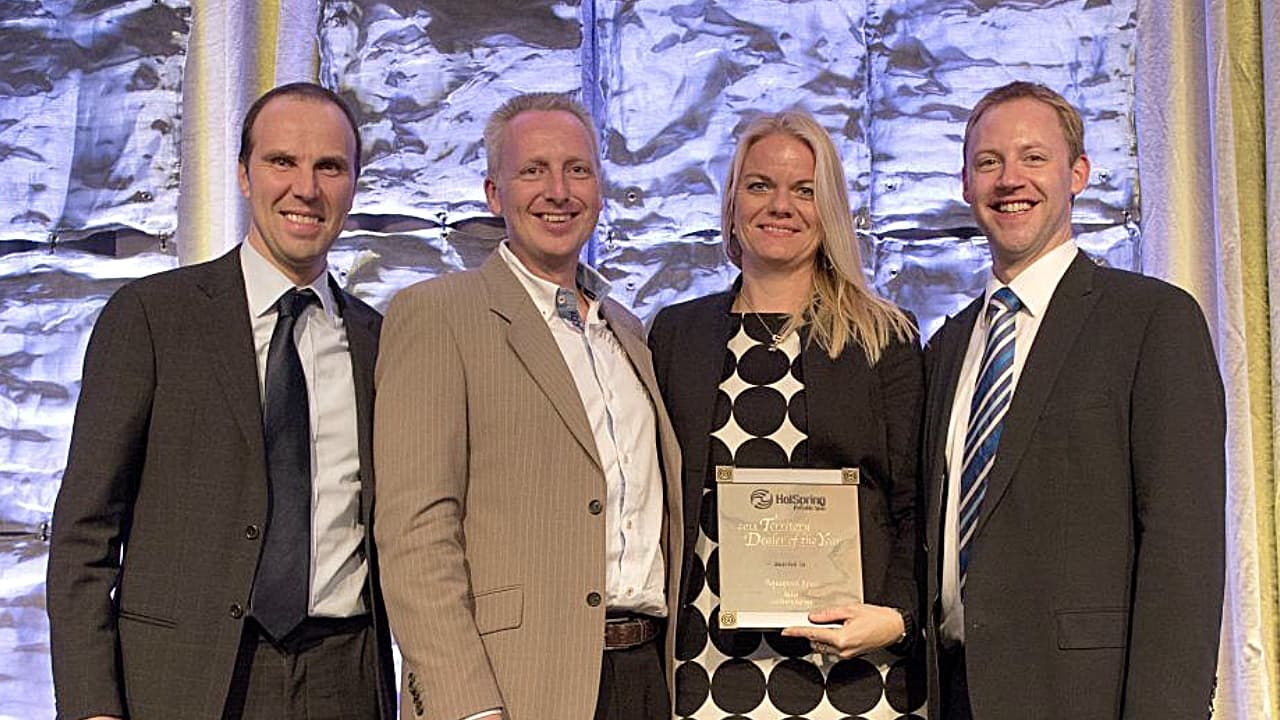 2013 Retail Excellence
TERRITORY DEALER OF THE YEAR
Award ceremony from the World conference in San Diego 2014. Anja and Claus Kielskov with Reto Gevers & Leo Hamacher, Vice President of International Sales.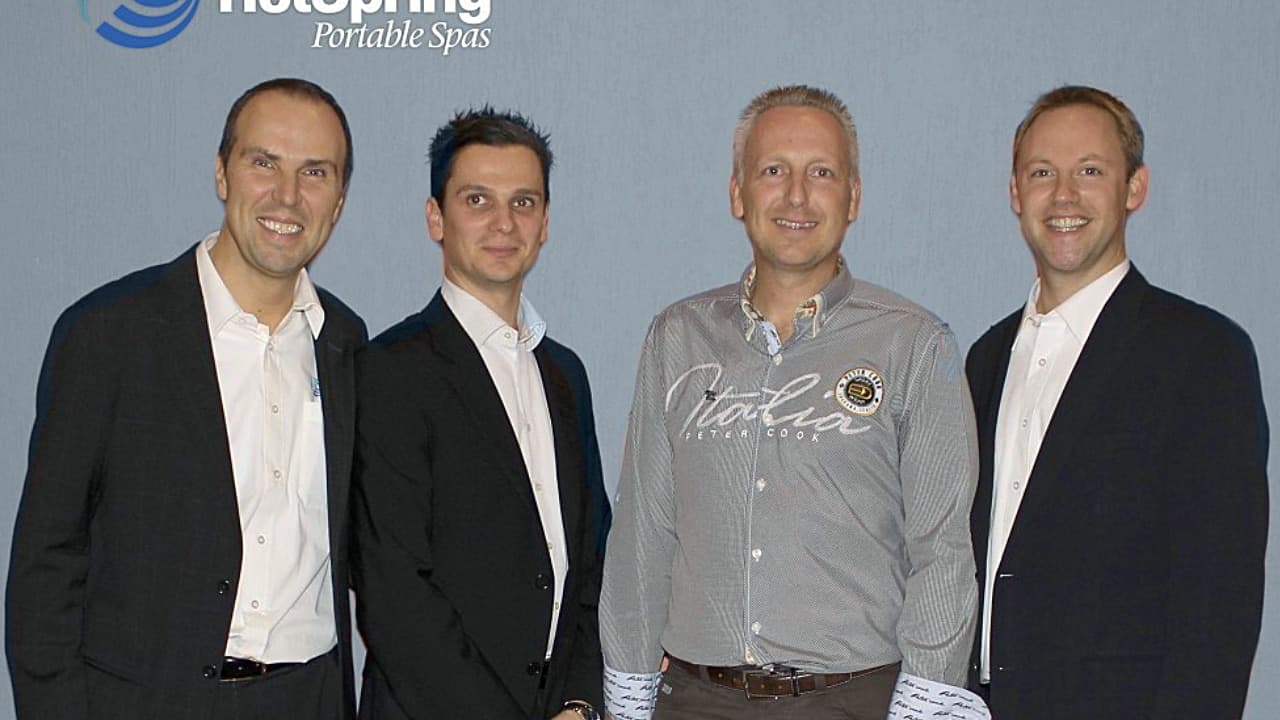 2012 Retail Excellence
TERRITORY DEALER OF THE YEAR
Award ceremony of the European conference, Gran Canaria 2013. Claus Kielskov with Reto Gevers, Benjamin Lavoix & Leo Hamacher, Vice President of Intl Sales.
This is the story of a young couple who left their native Denmark to establish an award-winning hot tub business, Aquapool Spas, in Spain.
Meet the founders of Aquapool Spas
Anja & Claus Kielskov
This is the story of a young couple who left their native Denmark to establish an award-winning hot tub business, Aquapool Spas, in Spain.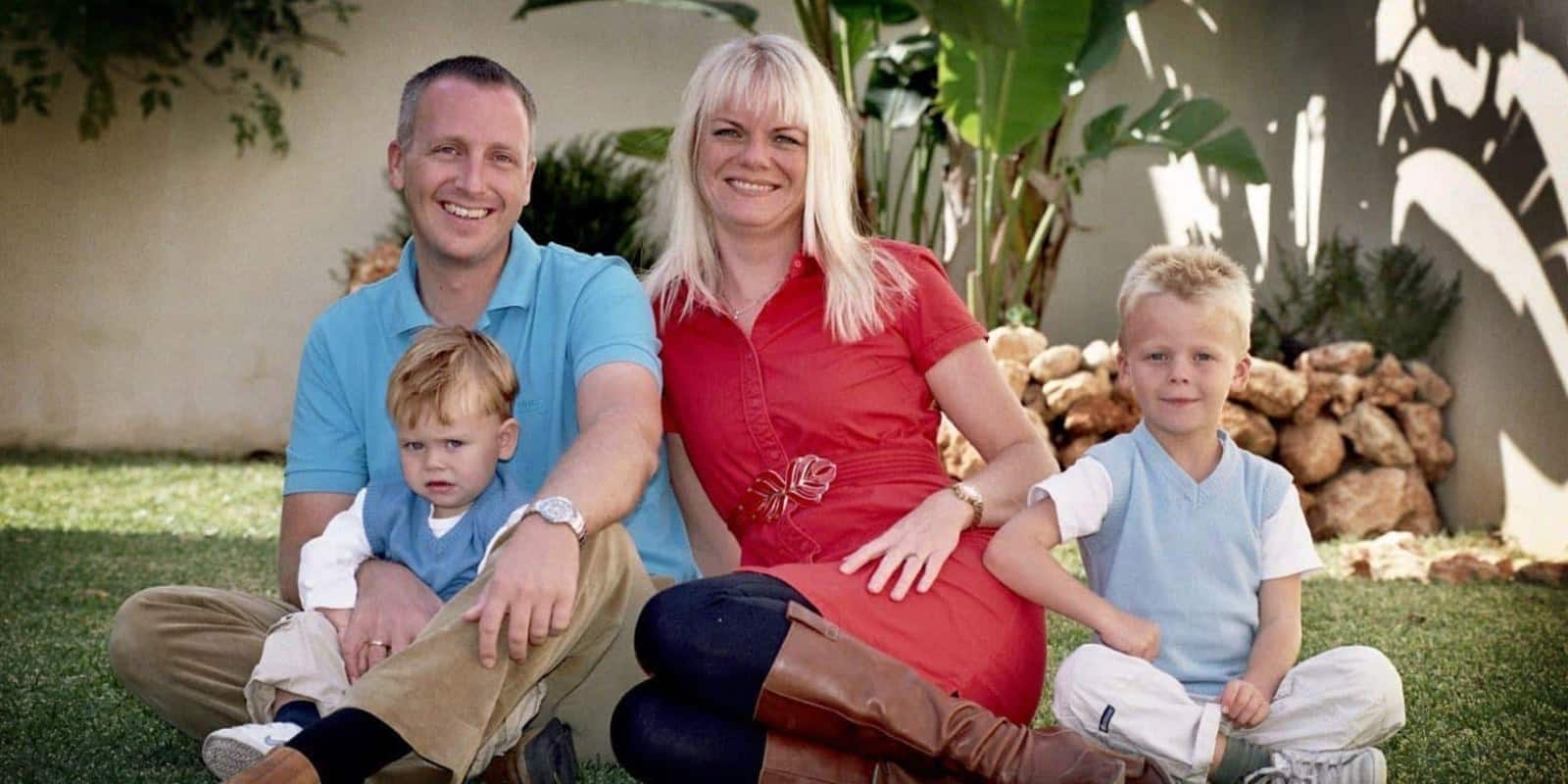 Back in 2002 we were newlyweds, had just bought our first house south of Copenhagen and our 1st son was 6 months old.
I have always worked in sales and marketing and I love to connect with people. Since I was 13, after school, I was helping my dad with his real estate business. I later studied Export and languages, and I started my sales career working for a Biotech company specialising in in-vitro fertilisation products for doctors.
After 6 years I moved on to selling laboratory equipment with responsibility for some of the big Danish companies in the Medical Industry.
My husband Claus finished his degree in economics and worked for a large mobile phone company. We both come from very hard-working entrepreneur families.
One night in the summer of 2002 we looked at each other and we both knew that our destiny was not to live in that house in Denmark forever. All our holidays were spent in Southern Spain where my dad moved to a couple of years earlier.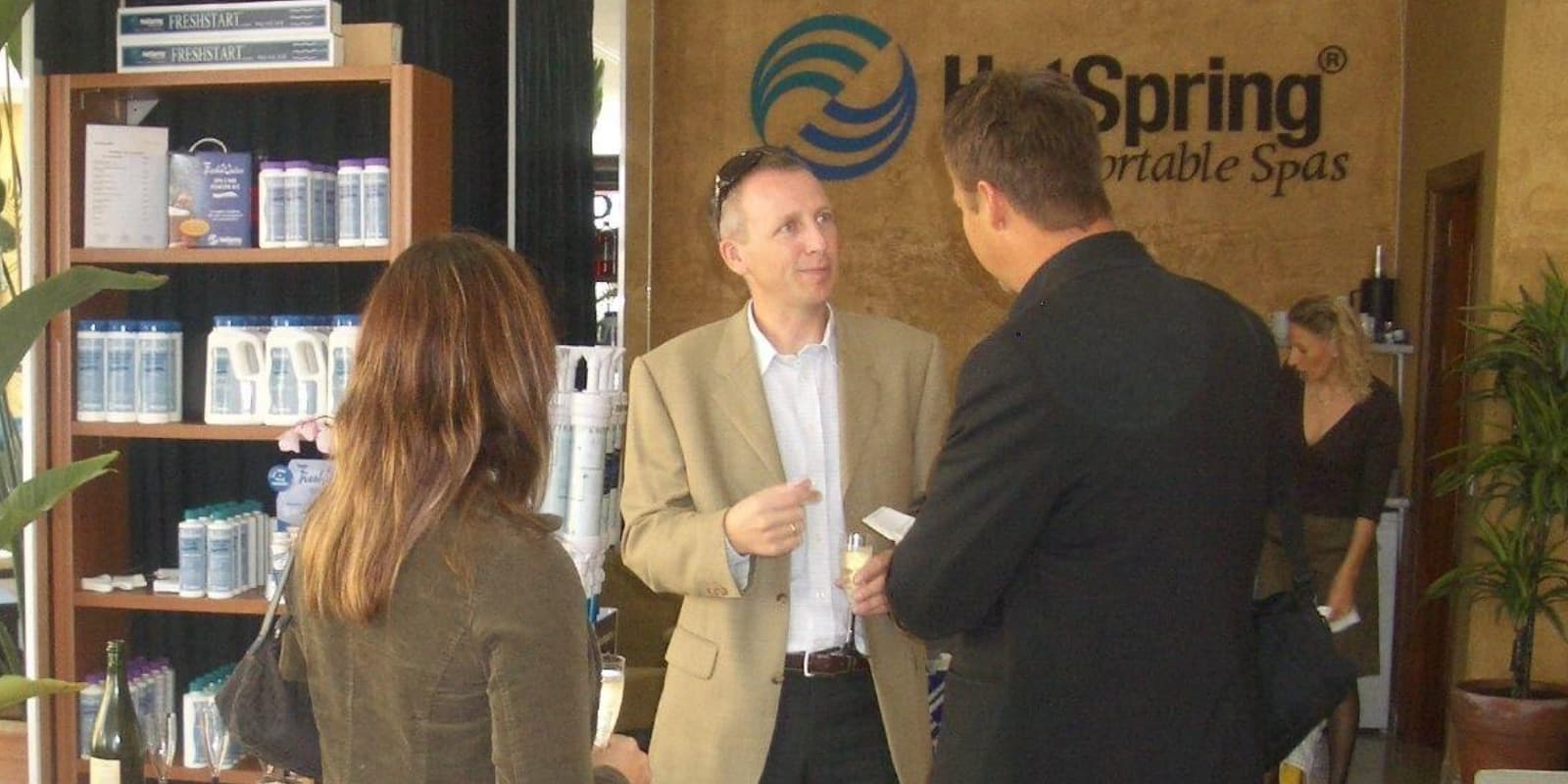 HotSpring Spas offered us a dealership
Whilst we were settling in living in Spain and working hard on learning Spanish, my dad and his wife were building a new house, and they decided to include a hot tub as part of the swimming pool area.
Finding the right spa was more difficult than they thought. They wanted a high quality hot tub and they looked everywhere to find a high quality hot tub on Costa del Sol.
My Dad learned about HotSpring Spas on the internet, but there was no local dealer. He contacted HotSpring Spas in the US and made an appointment to see their hot tubs in Barcelona (1.000 km away!) where HotSpring were exhibiting in a "Pool & Spa fair". He invited me to go with him to the show.
When I saw the hot tubs and the quality, I thought to myself: "I would love to sell a product that helps people take care of their health".
There was an opening to become the Territorial Dealer on Costa del Sol, and I remember calling Claus saying: "Now I know what we will do for a living: We will start up a hot tub business".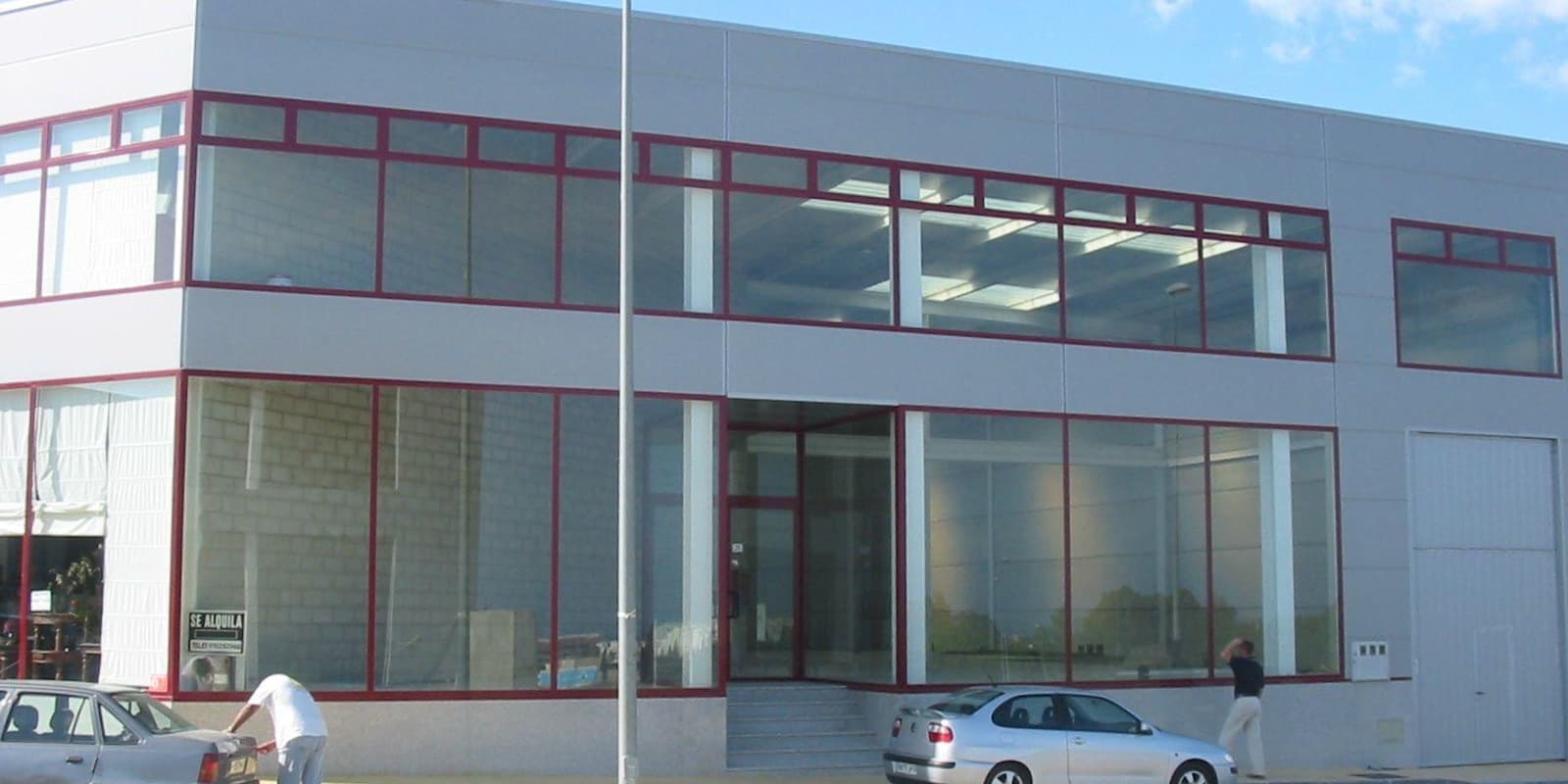 State-of-art showroom in a busy area
In the process of testing the interest in the market, we converted our garden into a space for showing the hot tubs and put four models on display. We sold five spas in the first month.
Six months later, we opened a state-of-the-art 500 m2 showroom in San Pedro de Alcántara, Marbella, with space for displaying more than 30 tubs and a private area for test soaks. This showroom has been our flag-ship showroom ever since and we love the atmosphere and the buzz there is.
From there it went quite fast, in 2006 we opened a second showroom in Mijas and in 2007 we opened our third showroom in Algarrobo Costa (east of Málaga).
Unfortunately, the 2009 recession hit everybody hard and led us to cut back on all unnecessary cost but we were hanging in there as the only spa dealer on the Costa del Sol, since all competitors had gone out of business. We recovered stronger and opened again a showroom in Fuengirola in 2015.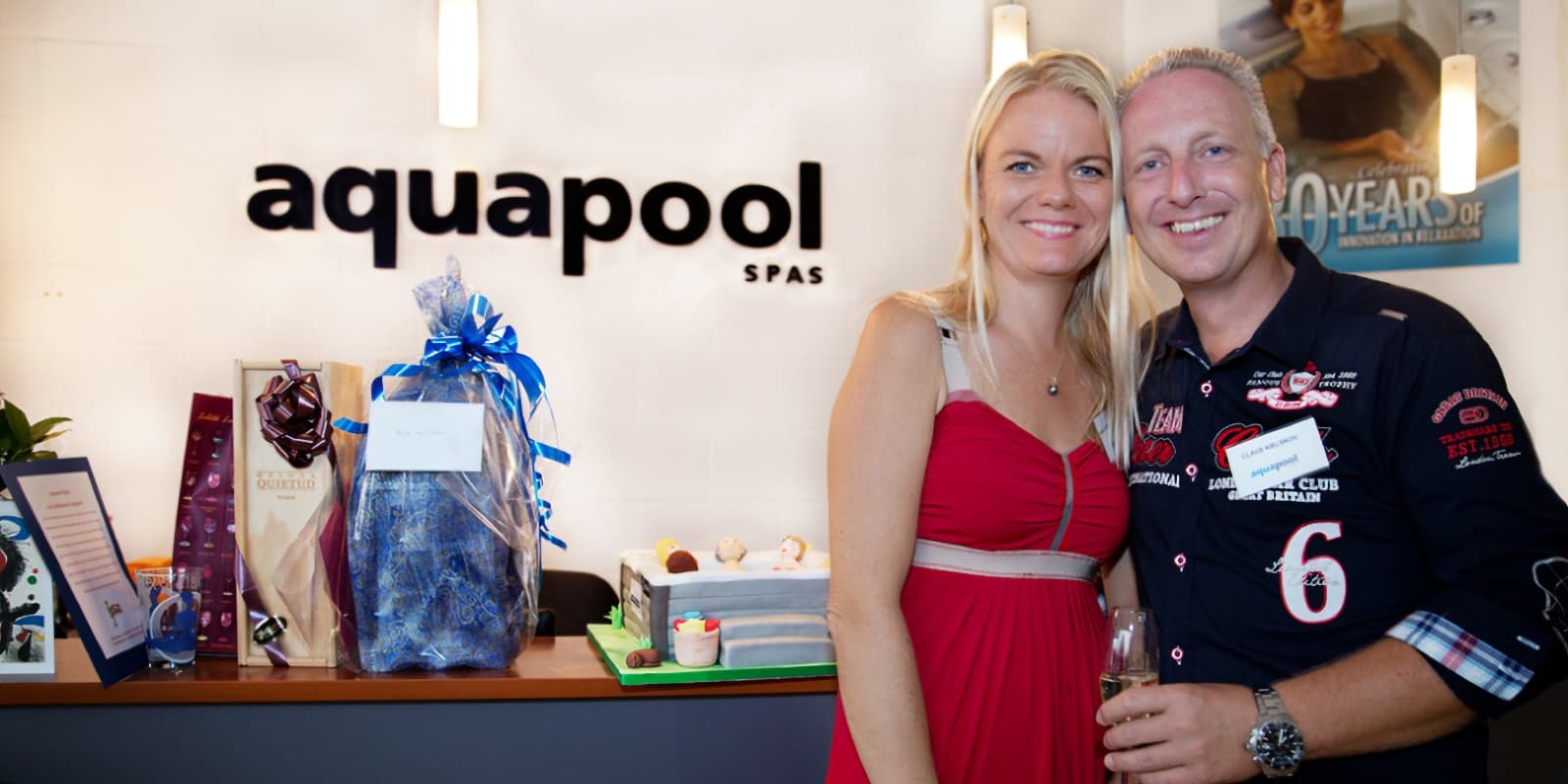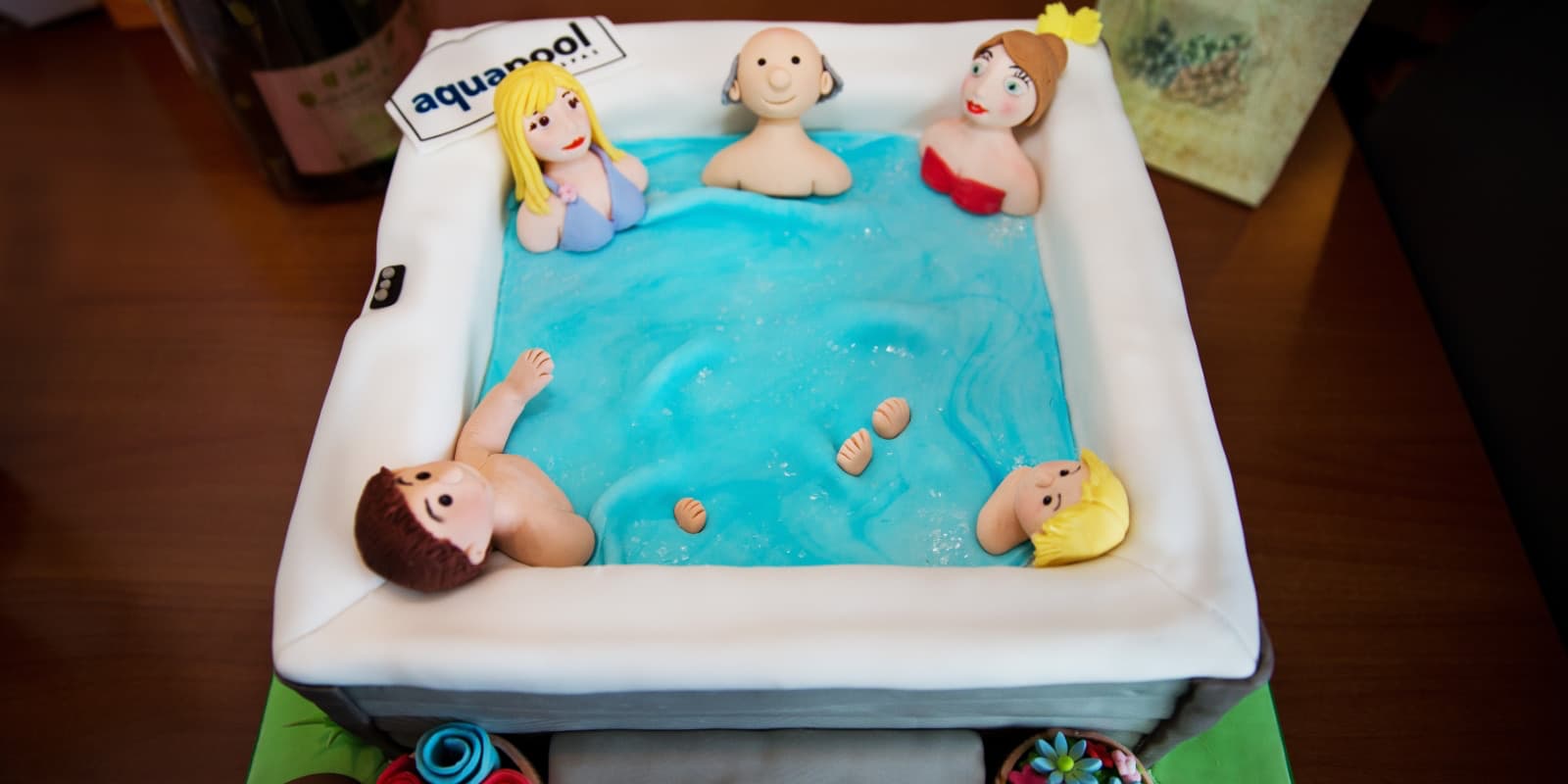 A milestone and a big party
The first 10 years were mainly focused on getting the hot tubs on the wish list for many local home owners, we worked hard on getting Aquapool Spas known as the best hot tub dealer on the coast, and I guess it is accomplished when people started asking for an "Aquapool" rather than a hot tub!
We threw a big party when we reached the 10 year mile stone. Many clients, friends and collaborators participated in the celebrations.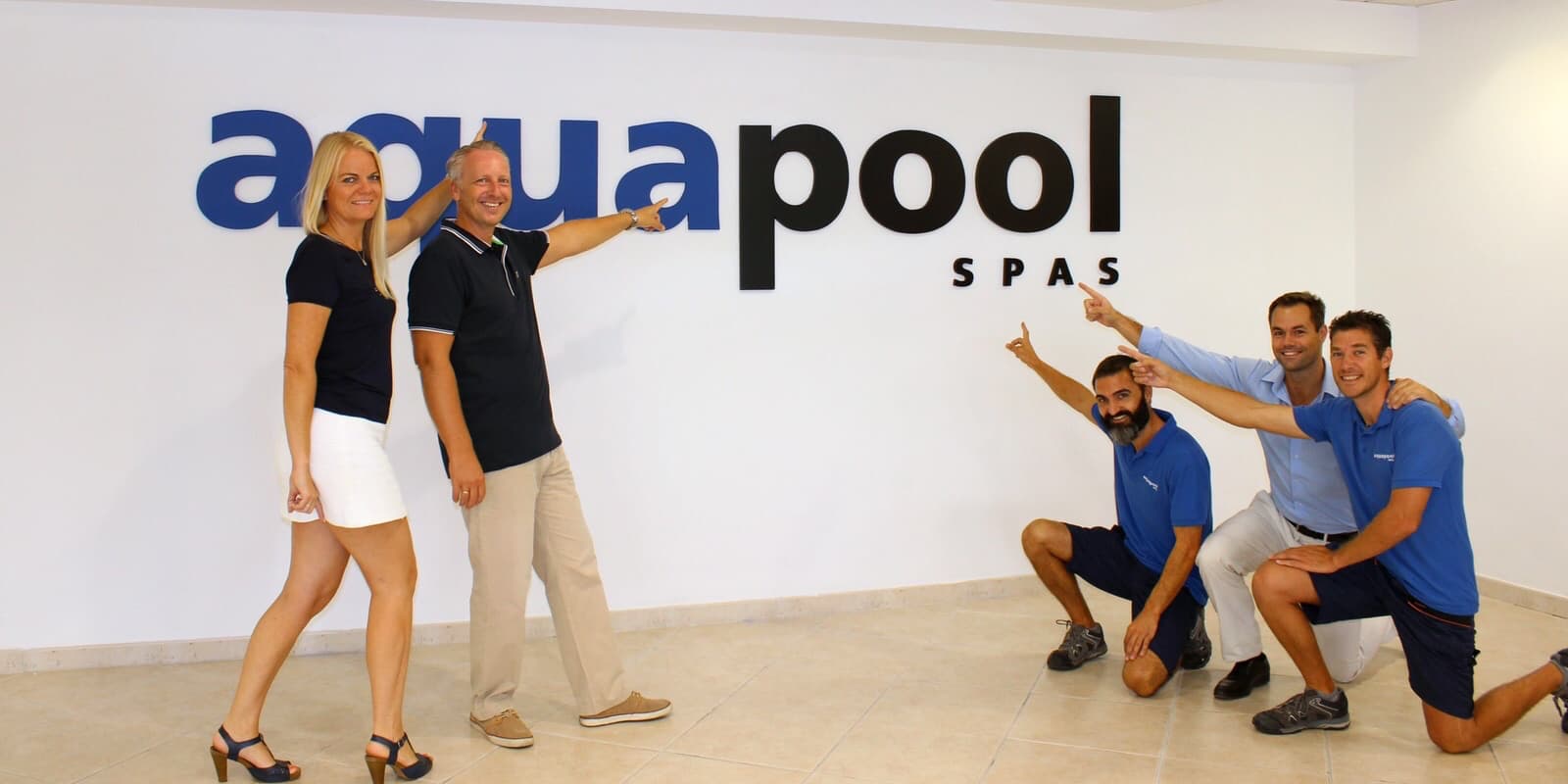 Prime location that quickly became a success
When the opportunity came to open a showroom on a top-location in Fuengirola we didn't have to think twice. We opened the showroom 1st of September 2015 and the first month proved that this was a great decision, so many local people came to buy their long-awaited hot tub, it was a great start of another success for us.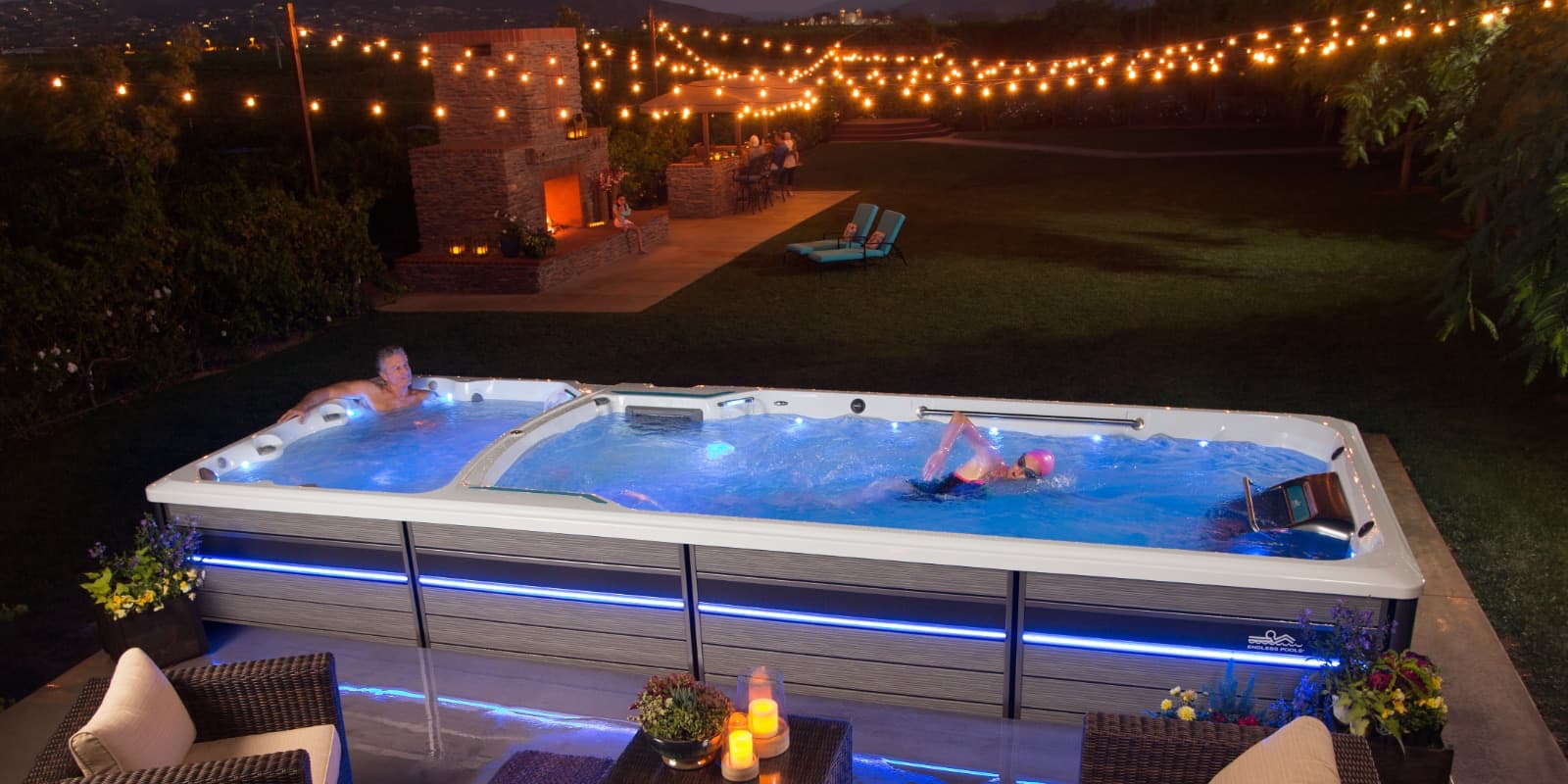 Addition of swim spas to our wellness products
When the manufacturer of HotSpring Spas acquired Endless Pools in 2016, we were offered to be the exclusive dealer of this high-end swim spa brand. The product range from Endless Pools is a great add-on to our portfolio of wellness products and we are very proud to be able to offer a high-quality swim spa.
We have made a special area of our Marbella showroom into an Endless pools area where clients and see and test one of the models.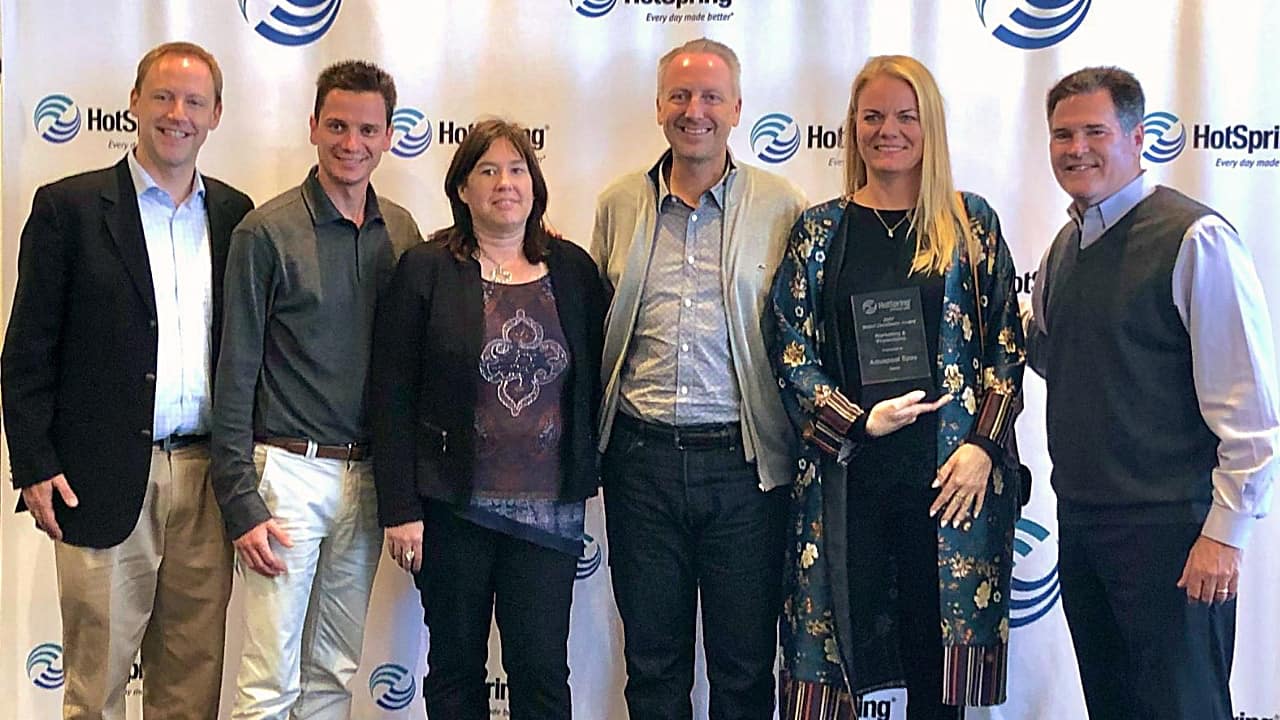 Marketing innovation - Aquapool Spas was put in the spot light
To reach a diverse market – clients from more than 20 different nationalities each year – we have a multilingual staff and have fun creating innovative advertising strategies, from golf tournaments, business networking groups, and fashion shows to a women's-only event with a homeopathic speaker and a showroom soak. We love testing and trying new strategies to reach today's new hot tubbers.
We are extremely proud of all the Awards we have achieved during the years, but one that will always mean something special to us is "RETAIL EXCELLENCE: MARKETING AND PROMOTIONS" that we got in 2017 on the big stage at the International Convention in San Diego in front of 1000´s of dealers – to receive this as a Spanish dealer was such an honour for us.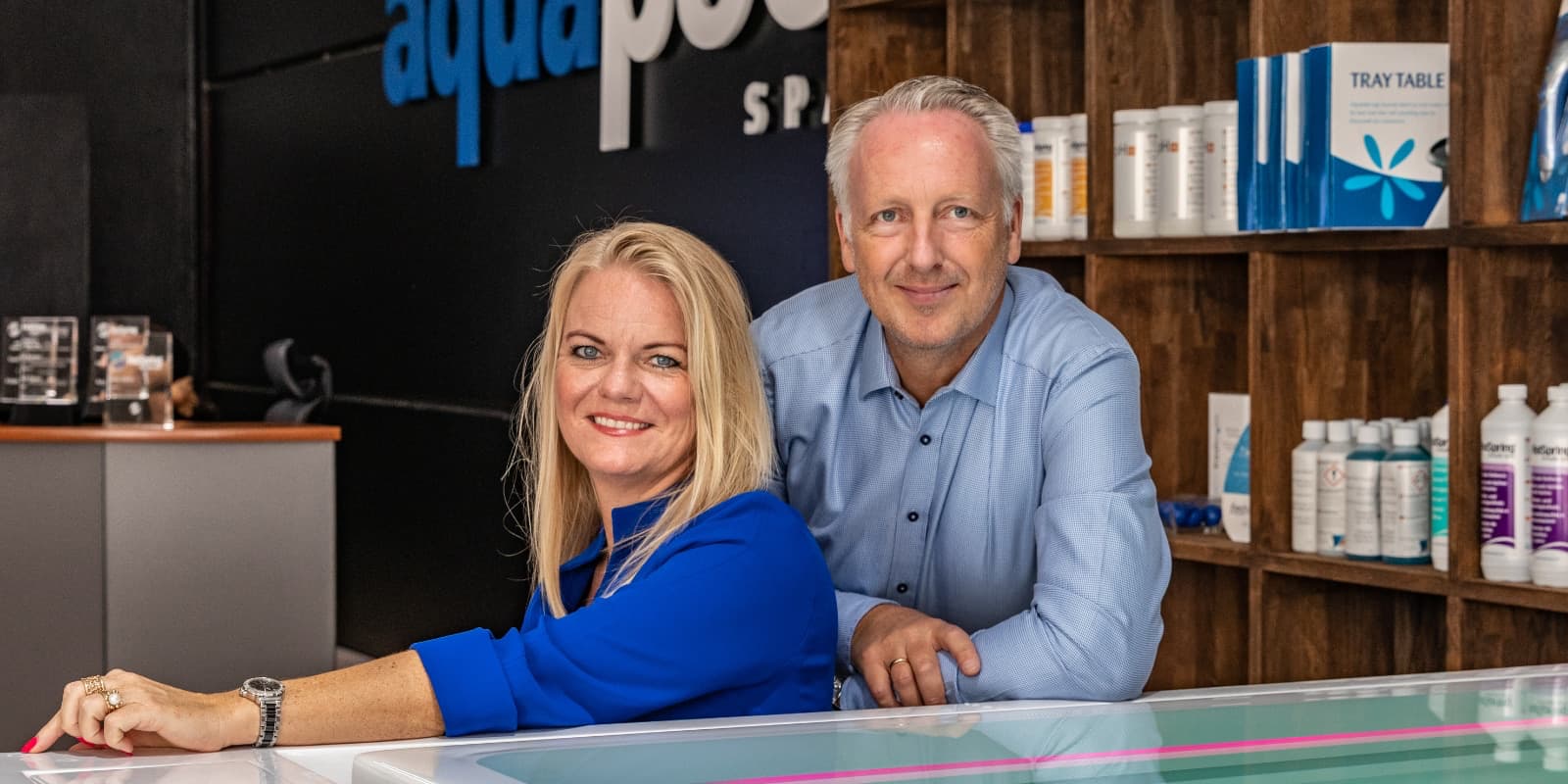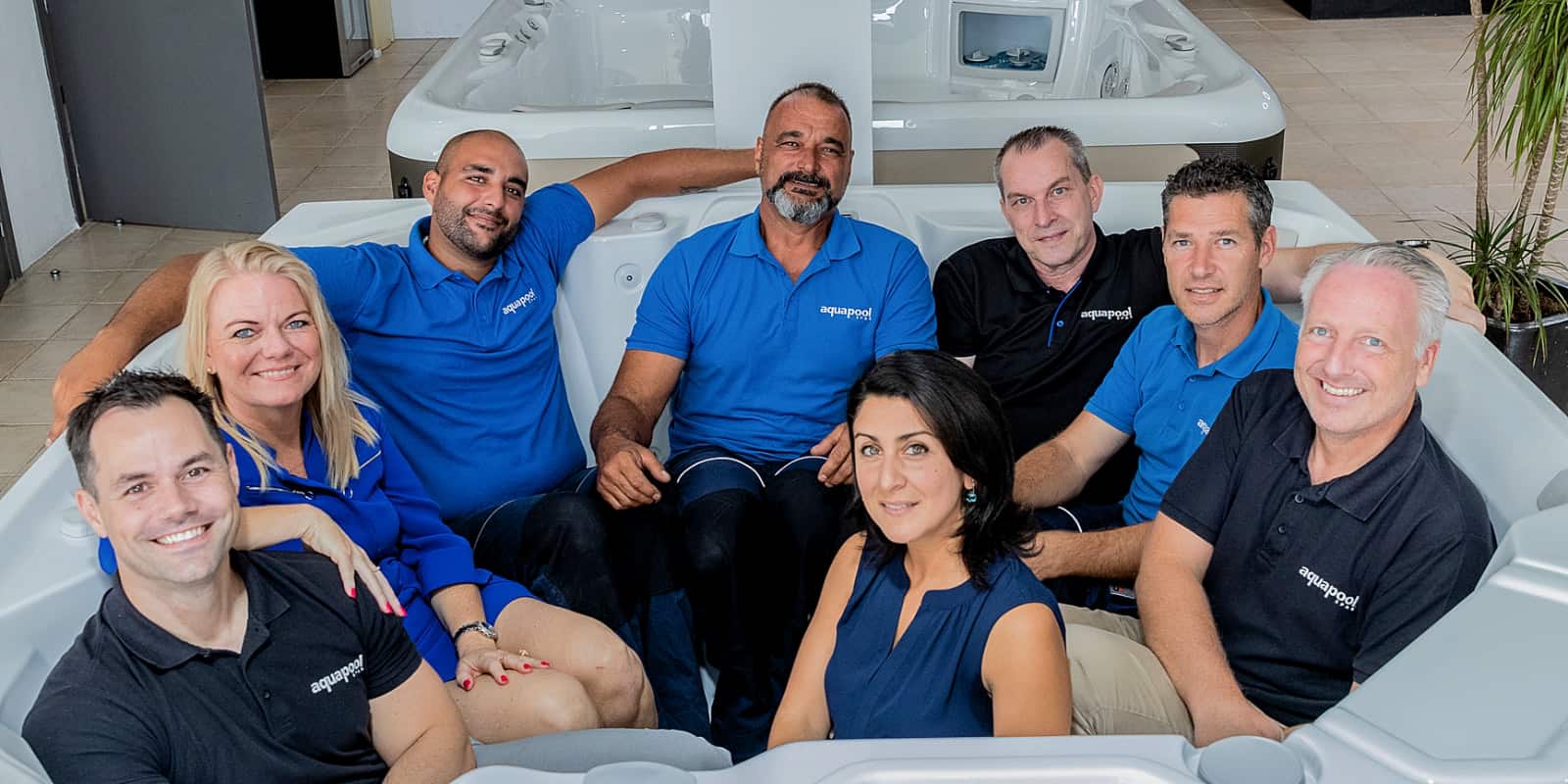 Wellness is the new BLACK
During my years in the spa business, my dream is to let the world know how hot-tubbing can improve health and well-being for the better.
Wellness is now more needed than ever and our products can help people to feel better and healthier. In many ways I feel that our journey to bring more wellness in peoples life's has only just begun.
I love to talk to our happy clients, to hear and share those amazing stories on how their hot tub has improved their health, and how it has improved their family life. These stories are what drive us every day. It really makes a difference.
Our strategy has always been to create an environment for both our staff and for our clients where it is like family. Most of our staff have been with us for many years and they are like family, the same goes for our clients – many are returning clients or they come to us because of recommendations. This makes me so proud and happy and it makes it all worth-while.
By Anja Mynster, 2021

To read stories from our amazing clients – read our reviews on Facebook or Google.